We recently attended GirlTechLeeds, to help inspire the next generation of women in Tech! At Lhasa, we believe that it is important to create an environment where everyone can succeed, which is why our amazing colleagues volunteered their time to attend the event and share their knowledge and experience of working in a tech role.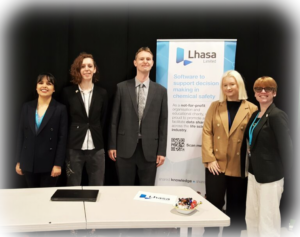 On 4 May 2023, the city's fifth GirlTechLeeds event took place. Co-funded by Leeds City Council, GirlTechLeeds connects young women with professionals from tech companies like Lhasa Limited!
GirlTechLeeds forms part of Growing Talent Digital Leeds, a wider careers and skills initiative being delivered by Ahead Partnership to connect digital employers with young people from underrepresented groups and areas in the city. Through masterclasses, careers panels, festivals and events, the programme aims to help young people understand the importance of digital skills for future roles.
A study by Tech Nation found that although half of people working are women, in the tech sector, women represent only 26%. To find out why this gap is so large, a survey carried out by Women in Tech found that 22% of people think that the main reason women are being put off from a career in tech is early misconceptions from a lack of education in young girls. By seeing more female role models in tech, young girls will start to see IT as a realistic and attractive career option.
One of the event volunteers from Lhasa, Penny Hindle, echoes these findings, "I was the only young woman in a group of 1000 students to study Computing at A-Level, so I've seen the imbalance first hand. A young woman inspired me to pursue a career with digital skills and so I hope by taking part in GirlTechLeeds I can pass that on and be a part of a new generation's tech journey – that would be amazing!"
The event was a great success, and as a result 90% of the young women that attended said that they would like to pursue a career in digital and tech! This is a direct result of the efforts made by all the amazing volunteers who supported the event, and a huge thank you to our colleagues Ashley Fenton, Dr. Lucy Wilcock, Dr. Jessica Magallanes-Castaneda, Penny Hindle and Dan Newman who attended the event.
At Lhasa, we are committed to building a diverse and inclusive workplace. If you would like to join our team, check out our careers page for current vacancies.