Lhasa Limited has been an advocate of data sharing for many years. In this piece, we explore the top 5 benefits of data sharing within Vitic.
The benefits of data sharing include cost savings, the ability to make more informed decisions and the opportunity to define best practice through collaboration within the industry.
Vitic is central to various data sharing projects. Our data sharing initiatives are a collaboration of prominent pharmaceutical organisations whose involvement enables pre-competitive data sharing.
"It is my view that pre-competitive collaboration and data sharing has been arguably the single most effective means of progression in a number of key regulatory areas over the last decade." Dr. Andrew Teasdale, AstraZeneca
The following graphic shows the top 5 benefits of data sharing within Vitic.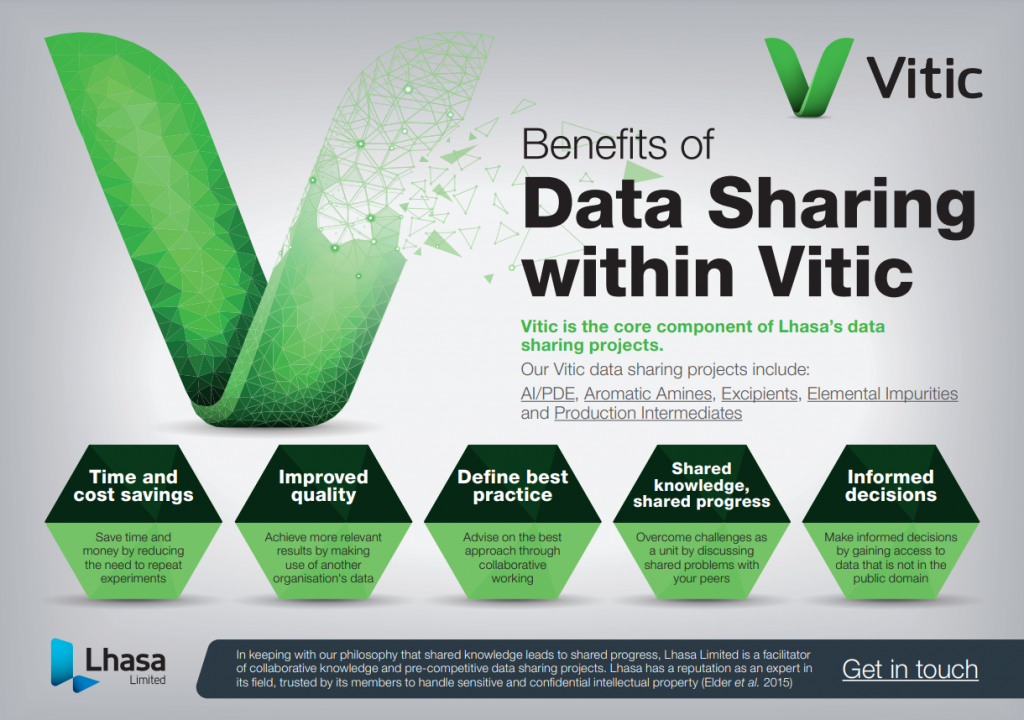 Read this far and want to know more? You can benefit from all of these by joining one of our many data sharing initiatives:
AI/PDE – Acceptable Intake (AI) and Permitted Daily Exposure (PDE) data sharing project for pharmaceutical impurities.
Aromatic Amines – Improves the understanding and predictability of the Ames test outcome for primary aromatic amines.
Elemental Impurities – Supports more scientifically driven risk assessments under ICH Q3D.
Excipients – Helps to refine experiments, thereby contributing towards a reduction in animal testing.
Intermediates – A database of Ames mutagenicity results for common intermediates.
Nitrites in Excipients – A collaborative data sharing project for assessing the levels of nitrites in excipients.
To find out more about collaborative or data sharing opportunities with us, please get in touch.
________________
Did you enjoy this blog? Please let us know.
What else would you like us to write about? Please let us know.