At Lhasa, we are empowered by diversity and inclusion, where all voices are heard and celebrated.
In our latest blog we caught up with Lhasa Senior Application Scientist, Graham Heaven and Principal Application Scientist, Margarita Maria Munoz Henao, to discuss the significance of Pride and the meaningful ways we can actively support our LGBTQ+ colleagues, both inside and outside the workplace.
Why do you think it's important to talk about LGBTQ+ issues in the workplace? 
Graham: Some people think that being LGBTQ+ is a private matter, which doesn't need to be talked about in the workplace. However, everyday conversations can often involve references to your family, relationships, and personal life meaning you can be confronted with the question of whether to be honest and 'come out', or to swerve around the topic and not participate in the conversation. It's important that people can bring their authentic selves to work, to build relationships and succeed in their careers. Talking openly about these issues can help people feel comfortable enough to do this.
Why is celebrating Pride important to you? 
Margarita: As a LGBTQ+ person you tend to grow up being taught about standard expectations, such as how you should dress and behave. In some cases, you can be presented with a standard model of relationship or family, which we all know can be quite damaging to our personalities and lives. This can make people afraid of expressing their feelings or being rejected socially and at the workplace should they not conform to those 'norms'. Being able to know and accept who we are is super important in allowing us to thrive as individuals and this should not be a privilege of a few. Celebrating Pride is a way to recognise this as a basic right to every human.
What can people do outside of Pride month to support their LGBTQ+ friends and colleagues?
Graham: There are some small actions you can take to be a good ally of the LGBTQ+ community, such as being mindful of the language you use including using people's preferred pronouns. I'd also recommend taking some time to read about LGBTQ+ history and ongoing issues.
What is Leeds like as a city for LGBTQ+ people?
Margarita: I find Leeds a very diverse city overall. I feel comfortable and safe as a LGBTQ+ person here, being able to openly talk to people without having to face the awkwardness of hiding who I am. Also, I can walk on the streets and visit places freely with my partner without feeling scared or judged. I feel happy seeing the pride flag featuring in many places around the city, on public buildings, sidewalks, and private establishments which makes us feel welcomed and safe. As much as these sound like very basic things, I've been to places where this is not possible and we know there are places in the world where this is even considered to be a crime, so I feel privileged to live in a place where being who I am is just okay.
Are you doing anything to celebrate Pride this year?
Graham: Yes! I'll be attending my local Pride event, Wakefield pride. At Lhasa, we recently held a bake sale raising almost £200 for AKT which is a charity helping homeless young members of the LGBTQ+ community.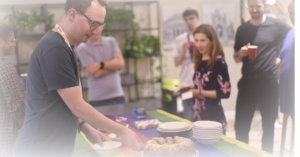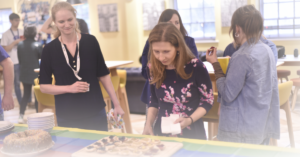 Lhasa bake sale for AKT, a charity helping homeless young members of the LGBTQ+ community.
This week, our Lhasa colleagues will be joining over 50,000 people to celebrate Leeds Pride 2023!
Learn more about how our values shape our workplace.
For more information about our current opportunities, check out our careers page.